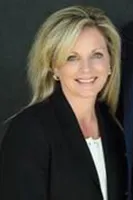 Amy Mooney, PhD, LMHC, NCC, ACS | Owner | Clinical Director| Ames and Des Moines Office
Dr. Mooney returned back to private practice with Ames Therapy & Consulting in 2011. Mooney works part-time consulting and counseling. She brings over 25 years experience in the mental health field. Mooney has a Doctorate of Philosophy specializing in Counseling Psychology. She is the past Director of Grand View University's Clinical Mental Health Counseling Program and an Professor/Core Faculty of Counseling Education (taught for over 20 years) .
Academic and professional experience in evaluating and treating individuals with mental health and medical disorders have contributed to her dedication. She specializes in Independent Mental Health Evaluations (IME'S) providing expert opinion in conjunction with our psychiatrist and/or psychologist (completed over 500 IME's). Dr. Mooney specializes in chronic pain, anxiety disorders, PTSD, depression, and catastrophic trauma cases. She additionally, supervises graduate students and temporary licensed LMHC in the state of Iowa. Furthermore, is a consultant with with large companies on implementation of mental health on site programs.
Dr. Mooney continues to speak at state, regional and national conferences. Mooney is the Past President (2017 - 2019) of the American Counseling Association of Iowa . Mooney currently appointed/serves on the State of Iowa Board of Behavioral Science (2019 to present). She has served on both state and national boards over the past 15 years. Additionally, she is the new upcoming Chair -Elect for the American Counseling Association Midwest Region.
Licensed Mental Health Counselor, National Certified Counselor, Accredited Clinical Supervisor
Vice Chair and Board member for the Iowa Board of Behavioral Science (2019 to present)
Chair Elect for the American Counseling Association (2022-2023)
President (2017 -2019) Past President (2019 -2020) of American Counseling Association of Iowa
Diplomate of the AMHCA with designation of Clinical Mental Health Specialist in Developmental Disability Counseling
Professional Biofeedback Certificate Program with Stens and the Biofeedback Institute
Certified Mediator: Harvard Law School