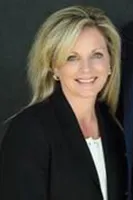 Amy Mooney, PhD, LMHC, NCC, ACS | Owner | Clinical Director| Ames and Des Moines Office
Dr. Mooney founded Ames Therapy & Consulting in 2011, bringing with her extensive experience and a wealth of knowledge in the mental health field. As a part-time consultant and counselor, she has amassed over 25 years of experience in evaluating and treating individuals with mental health and medical disorders. Since its inception, Ames Therapy has expanded to three office locations in Ames, Des Moines, and Altoona.
With a Doctorate of Philosophy specializing in Counseling Psychology, Dr. Mooney has made significant contributions to the field. She previously served as the Director of a University's Clinical Mental Health Counseling Program and has been a respected Professor/Core Faculty of Counseling Education for over two decades. She recently has joined The Family Institute at Northwestern University.
Dr. Mooney's expertise extends to various areas, including Independent Mental Health Evaluations (IME's) where she has provided expert opinions in collaboration with psychiatrists and psychologists, having completed over 500 IME's. Her specialties lie in chronic pain, anxiety disorders, PTSD, depression, and catastrophic trauma cases. Additionally, she supervises graduate students and temporary licensed LMHCs in the state of Iowa, and consults with large companies on the implementation of on-site mental health programs.
A highly regarded speaker, Dr. Mooney has presented at state, regional, and national conferences. Dr. Mooney holds several distinguished credentials, including being a Licensed Mental Health Counselor, National Certified Counselor, and Accredited Clinical Supervisor. She currently holds a position of Vice Chair on the State of Iowa Board of Behavioral Science. Furthermore, Dr. Mooney is the Midwest Regional Chair for the American Counseling Association.
Over the past 15 years, she has contributed her expertise to both state (served as the Past President of the American Counseling Association of Iowa and held positions on IMHCA board) and national boards. Additionally, she is a Diplomate of the AMHCA with a designation of Clinical Mental Health Specialist in Developmental Disability Counseling. Dr. Mooney has completed the Professional Biofeedback Certificate Program with Stens and the Biofeedback Institute and is a Certified Mediator from Harvard Law School.
With Dr. Mooney's vast experience, exceptional qualifications, and dedication to the field, you can trust that you will receive the highest level of care and expertise at Ames Therapy & Consulting.